Morning crafters
It's time again for another fabulous sketch challenge.
Please can you take the time to read the rules in red below
This week at Sketch n Stash are lovely Julie has designed you all a sketch and what a fabulous sketch it is too.
You can rotate the sketch and add your embellishments.
But please do remember to tell us what your new/neglected stash is that you used on your creation.
Also please can we bring to your attention to follow the sketch correctly so that we can still see our original sketch.We have noticed over the last month that some people are not following the sketch properly at all and that is not fair to others especially when there are prizes involved.To qualify for the prize , comments and the top 3 we still need to be able to recognize our original sketch and you also need to link back to the Sketch n Stash challenge blog.
You can however combine challenges.
People who do not follow the rules, then we're sorry, but there links will be deleted.
We're sorry to have to say this but we have to make it fun and fair for everybody to join in.
Ok, now onto this weeks sponsor
This week we are being sponsored by..........
Simon says Stamp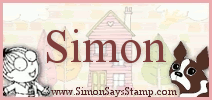 The 2 winners from challenge 58 are number 8
Laura
your win the Simon say's stamp voucher and number 9
Mina
you win the meljen digi's congratulations ladies please contact Chrissie via the email on our side bar
you have until 8pn On sunday 24th April to join us x
Here is some gorgeous inspiration from the Sketch n Stash girls.....
Angie
Vicky
Daniele
Sue
Jill
Chrissie